The festive season is fast approaching, and Spices, Bakers Gift Set is the perfect selection. You can buy it online now at Spice Station for a family member or  dear friend. It's fun to present the most intriguing dishes that are scrumptious and satisfying–the ones that stun your guests. You can bring them to life with Spices, Bakers Gift Set.
For some of us the festive season is already here! Not only are you baking with these spices, you're also providing necessary nutrients and in some instances medicinal benefits.
Here is what is included in this delightful package:
Blue Poppy Seeds
For pastries, muffins, and cakes. Besides these tasty treats it can be used in other dishes like chicken casserole, salad dressing, and surprisingly, many other savory dishes!
Coconut
Its popularity in baked goods is outstanding. Can be lightly toasted and used in rice and stews for a rich flavorful meal. a great inclusion in your bakers gift set.
Lemon Granules
Out of lemons? This is a great substitute that is used in baking, in seafood, vegetables, and any other dish that requires lemons, and also lauded for it's many benefits to the skin.
Lavender Flowers
Enhances the flavor of cookies, jams and other spices. Its fragrance is beautiful and calming; its uses are numerous for luxury, beauty, and health applications.
Nutmeg
Used as a culinary delight in baking; add to pies, cakes, pudding; gives oatmeal a boost and is also included in many savory dishes. Well known for its many medicinal benefits, it is such a thoughtful addition in the spices, bakers gift set.
Cocoa Royal Mahogany 
For ice cream lovers, chocolate cakes, chocolate beverages. This immensely reddish-dark-brown cocoa is known to be less alkalized than the black cocoas. It has a deep, robust, full-bodied chocolate flavor.
Cinnamon Saigon
It is the most potent of cinnamon, pungent and most flavorful–the pride of many dishes around the globe and has tremendous health benefits.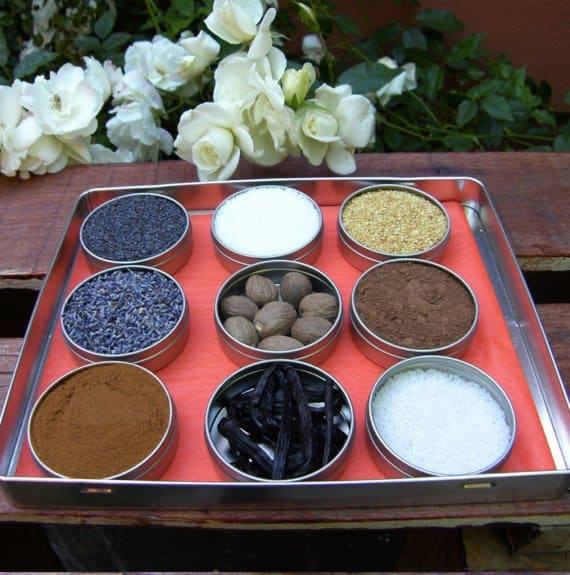 Vanilla Beans
Highly praised and included in just about every dessert such as ice cream, cakes, and many savory dishes. It is rich in minerals and antioxidants and is used in many hair and skin care products.
Fleur De Sel ("flower of salt")
This finishing salt gives a boost to the true flavors of salads, meat, vegetables, dessert, or to just about anything you can imagine. It is sprinkled on just before serving, not while cooking. High temperatures will melt the crystals which make it so unique.
You can buy spices on line now at Spice Station. All of the above spices, packed in an attractively wrapped bakers gift set, are available to you!