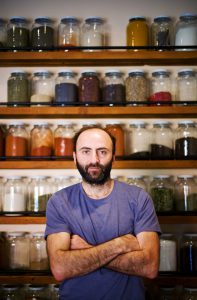 Peter Bahlawanian and business partner Bronwen Tawse opened a Silver Lake spice emporium called Spice Station on November 17,  2009 . The shop is near Sunset Junction, down an alley in a former antique furniture shop. They sell over 400 spices, herbs, salts, sugars, teas, peppercorns, chiles and custom blends which are available by the ounce or by the pound.
Leading up to opening, Bahlawanian has been a lifetime producer in the entertainment industry and Tawse continues to conduct research for a celebrity biographer when she's not working in Spice Station.
The entire store is constructed from reclaimed wood, and the displays are former pallets. Jars decoratively display the spices on shelves. Options include Indian fenugreek, Canadian coriander, Egyptian dill weed, Syrian Aleppo pepper, Granada nutmeg, Szechuan peppercorns and various items from around the world.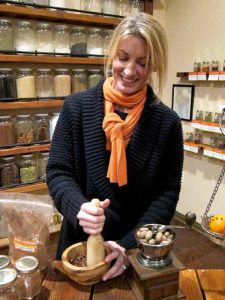 Colorful index cards list the price, country of origin, uses and medicinal purposes, where applicable. The spices are ground free of charge, or you can take the whole pods, berries and seeds to go.
They host weekend events on the brick-lined patio, which features a trellis and goldfish fountain and invite celebrity chefs and mixologists for cooking demos, spice classes, home bar tending and foodie inspired gatherings.
In May 2011, a location opened in the Mile End neighborhood in Montreal and then a second Canadian shop opened in Monkland village. Plans are in the works to continue opening Stations nationally and internationally.
If you are interested in becoming a Spice Station partner or franchisee in your hometown, it will be a fulfilling and lucrative endeavor. Franchises start from 10K and up.
" Every neighborhood should have access to purchasing the highest quality product at affordable prices. Our goal now is to facilitate this process."
Get more connected and learn more about cooking with spices by reading the Spice Station blog!