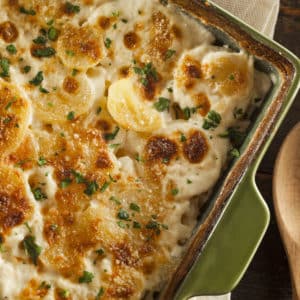 Did you buy winter spices for holiday baking, eggnog, mulling, ciders et al and now you're wondering what shall become of those jars that are 9/10ths full?  Spice Station to the rescue!  Nutmeg, a very common winter spice, likes anything, pairs well with potatoes au gratin!  We will eat anything with potatoes, heavy cream and cheese but throw a layer of dried porcini mushrooms into this dish and we'll be at your door before you can shake a lamb shank. (Which, does nicely with onion and garlic sauteed with a dash of nutmeg and garam masala.)  Combined with butter, flour and a bay leaf, you'll have a classic bechamel for a baked pasta dish.  Really, anything with cream can usually do with a bit of nutmeg.
Allspice also goes great with lamb and Caribbean jerk dishes.  As you know, cinnamon is very friendly with the apple and apple is great with pork dishes.  Try roasting a pork loin in some apple juice and halved red apples sprinkled with cinnamon.  (If you wrap that puppy in bacon you'll really be rolling.)  As far as cloves go, they are a must-have in a glazed ham (with brown sugar, honey and a dash of dry mustard) but those decorative pomanders (clove-studded oranges) aren't just for the holidays — they make great sachets for drawers and cupboards all year round.  Be careful around clothing though as clove is derived from the Latin word  'Clavus' which means 'nail'.' If you find people sniffing at you, well, take it as a compliment.  If they look like they might take a bite out of you consider making a run for it.
Find more spices for meal ideas, new spice ideas and more by browsing our blog, here! Shop for unique spices from around the world, here! Questions? Contact us here! We love to hear from our online community! Feel free to submit a recipe, blog post and more!