Treat Your Taste Buds to a Tasty World Tour
From the most ancient times to this 21st century, spices and their amazingly varied tastes and fragrances have defined cultures and cuisines across the globe. Each region in every country employs local ingredients, including flavor agents, to create its particular cuisine and unique flavors.
Among Spice Station's nearly 200 spice blends are many traditional creations from different countries and cultures. Using these regional and local flavors, you can travel the world with your taste buds without leaving home.
Here are eight of our favorites that are a mere sampling of what you will find at Spice Station.
Grilling, braising, or any other way you might prepare your salmon, this tasty blend is sure to please. Flavors like dill, star anise, coriander, black pepper, and more help bring out salmon's delicate flavor and elevate your dining experience.
High Desert Taco & Fajita Blend
With its combination of 4 mild to medium Mexican chilies, smoked paprika, cumin, and more, this is not your typical Tex-Mex fajita mix. The savory, smoky flavor profile sets it apart, making it an excellent choice for any meat or vegetable dish.
The unique, somewhat spicy, and unmistakable Asian taste of this popular seasoning can be irresistible. Both garlicky and gingerly, our Korean BBQ mix is ideal for marinades, grilling, and creating sauces by blending it with tomato paste, vinegar, and/or oil.
This traditional, sophisticated South of the border favorite is a tribute to its Aztec creators and is now a popular dish across the globe. Our blend is faithful to the traditional ingredients with its mild to medium heat and robust pepper and cocoa flavors. Simple to use and stunning in results, our Mole UltImate spice blend will make your recipes pop.
Valencia paella is a perfect choice for the iconic Spanish rice dish; this blend also enhances seafood and chicken fare. Saffron, rosemary, sweet and smoked paprika, garlic, and many others make this aromatic blend one of our most popular.
Fusion defines Peruvian cuisine with its multicultural and international influences. Ancient traditions of native peoples merge with Spanish and other cultures to create one of the most varied flavor cuisines imaginable. Citric lime leaves and various aromatic herbs and spices balance the heat from Peruvian aji amarillo and aji panca chiles.
This blend is a must-try.
Similar to harissa, Pilpelchuma is a popular condiment in Libya and Israel and could be the next big thing in condiment flavors. A spicy mix of crushed peppers and garlic, there is no mistaking the intense flavors of this blend, whose name means "pepper garlic."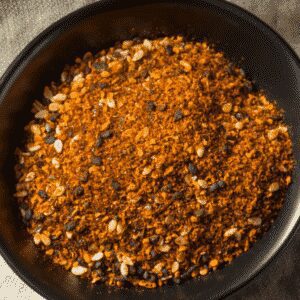 Togarashi,
Savory and spicy, this all-purpose Japanese spice blend is ideal for everything from soups and stews to meat and fish and virtually anything else you can think of. Dried red peppers, orange peel, ginger, and sesame seeds are typical ingredients for this intense, not-for-the-faint-of-tongue favorite.
There's More
We are only touching the surface of the world of flavors you will find in Spice Station's blends. Others include:
Latin American Cooking Mini Set
Mediterranean Cooking Mini Set
There you have it, your ticket to a world of flavor; Explore and enjoy!