Spices to Bring to Your Next Camping Trip
Everyone is a fan of delicious food. After spending all day on various outdoor activities while camping, the least you can do is prepare a delightful and flavorful meal by cooking with spices. Being outdoors should not be an excuse to eat mediocre food. Therefore, during your next camping trip, don't forget the spices.
Salt alone cannot do the magic. However, since you want to pack light, you might not carry all your spices. Here are some essentials that can spice up your trip.
Cinnamon
Cinnamon goes along with almost every meal. Besides making your meals in the wilderness taste better, it also has many health benefits. For instance, it has been proven to lower both cholesterol and blood sugar levels. You can add cinnamon to your yogurt or coffee in the morning or your hot apple juice after a long day for a kick.
Cayenne Pepper
Cayenne pepper is definitely every kitchen essential, including your camping kitchen. It comes in handy when preparing some chili for your family or friends. You can also add it to other dishes, like Mexican food.
Turmeric
Turmeric might not sound like an essential, especially during a camping trip. However, if you appreciate cooking with spices, you might want to bring it along with you. It goes well with beef and chicken. You can also use turmeric to spice up your freshly caught fish as well as giving your rice a pop of color. Just like cinnamon, it also has some health benefits. It helps with digestion and serves as an excellent anti-inflammatory.
Curry Powder
Curry powder is a blend of many Indian spices, making it very rich with flavor. You can use it to prepare vegetable stews as well as meats. Since curry powder is a combination of many spices, you can ditch other spices and still achieve a bold flavor.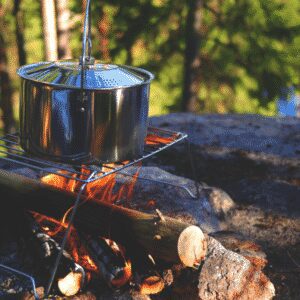 Since people season their food differently, you might need to experiment prior to the camping trip. That way, you will know what combination works for you and who you will be going with. Prepare a packing list so that you don't forget the spices. Remember to pack your spices in waterproof containers.
See our varieties of spices here.