Spice Up your Thanksgiving Gathering
Spices are a delicious addition to any meal, but as the weather turns colder and the holidays approach, spices are especially enjoyable. That's why this Thanksgiving is the perfect time to spice things up!
When your guests arrive for your party, offer them some refreshing Spiced Cranberry Punch that will still warm them up from the cold. The best part? This punch is so bright and colorful that it makes an excellent decor piece when put in a glass bowl or pitcher!
What You'll Need: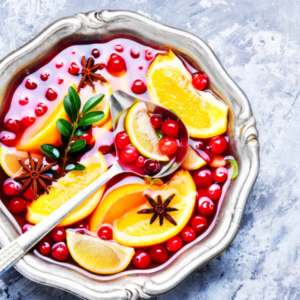 All-Spice Berries (8-10)
Fresh Cranberries (2 cups)
Fresh Ginger (1 inch)
Orange (1 for punch, 1 for garnish)
Honey (½ cup)
Chai Spice Sugar (2 tbsp) **
Cinnamon Sticks (2) or Ground Cinnamon (2 tsp)
Cloves (5)
100% Cranberry Juice (2 cups)
Orange Juice (1 cup)
12 oz. Can of Sparkling Water (4)
** Make Chai Spice Sugar at Home: Ground Cinnamon (2 tsp), Ginger (1 tsp), Cardamom (½ tsp), Nutmeg (¼ tsp), All-Spice (¼ tsp), Cloves (¼ tsp), Sugar (⅓ cup).
Steps:
Create a cranberry syrup – combine all-spice berries, cranberries, ginger, 1 orange, honey, chai spice sugar, cinnamon, and cloves. With ½ a cup of water, bring these ingredients to a boil in a pot and allow to boil for 3-4 minutes.
Allow to cool and strain.
Add to a serving bowl or pitcher along with cranberry juice and orange juice.
Chill until you're almost ready to serve.
When ready to serve: Top off with sparkling water and add fresh orange slices for garnish.
Enjoy!
Make it boozy: If you want to add some extra spice to your party, spike your punch with some vodka or spiced rum!
Bonus Tip: Dress the rims of each cup with Chai Spice Sugar!
The main event of any Thanksgiving meal (that isn't vegan or vegetarian, of course) is the turkey – so spice yours up this year with a delicious homemade rub!
What You'll Need:
Salt (1 tbsp)
Seasoned Salt (2 tsp)
Pepper (1 tsp)
Poultry Seasoning (1 tsp)
Garlic Powder (1 tsp)
Paprika (1 tsp)
Ground Red Pepper or Cayenne Pepper (1 tsp)
Dried Basil (1 tsp)
Dried Parsley (1 tsp)
The best part of this rub is that it can be a dry rub or a wet rub, depending on what you prefer for your meat! If you would like the rub to be dry, just combine all the above ingredients. If you would like to make the rub wet, combine all the above ingredients with melted butter.
Want to sweeten your turkey? Add some brown sugar for your dry rub or some honey for your wet rub!
Bring some spice to the warm rolls everyone loves so much with delicious homemade Whipped Pumpkin Spice Honey Butter! This butter is not only light, fluffy, and delicious – it's also a pretty orange color that will have all your guests ooing and awing this Thanksgiving.
What You'll Need:
Butter (1 cup – softened)
Pumpkin Spice (2 tsp) **
Pumpkin Puree (6 tbsp)
Honey (¼ cup)
Vanilla (1 tsp)
** Make Pumpkin Spice at home: Ground Cinnamon (1 tsp), Ginger (½ tsp), Nutmeg (¼ tsp), All-Spice (¼ tsp), Cloves (⅛ tsp)
Steps:
Whip your butter until it's light and fluffy – we suggest using an electric mixer!
Add pumpkin spice and whip with the butter to combine.
Slowly add the pumpkin puree and mix it in until smooth.
Add honey and vanilla.
Enjoy!