What Makes Saffron so special?
The way we value anything is largely dependent on the effort we put into getting it. This is especially true of saffron of which is asked why so special. Why is it "one of the most precious spices in the world"? Its highly labor-intensive production is one factor that makes it a most expensive spice.
What is saffron?
It comes from the saffron crocus flower. There are three stigmas in the center of each flower. These must be manually taken out, placed on a sieve to dry over a heat source to enhance the flavor. According to one source, it can take more than 75,000 flowers harvested by hand to make one pound of it. With so much labor going into the production of saffron it must be considered special.
The many uses and health benefits derived from the use of saffron also makes it a special spice. Research suggests that this spice is:
• an aphrodisiac, among the health benefits associated with its use.
• It also offers protection against cancer. Crocin, which it contains has been found to prevent the formation of malignant cells and trigger cell death for different types of human cancer.
• While not affecting normal body cells, it also stimulates immune cells that help destroy cancer cells.
Studies have also shown that crocin is useful for age-related mental problems and is used in treating memory loss, Parkinson's disease, and inflammation. Saffron is also useful as a stimulant. A pinch in a tablespoon of milk is useful to promote hormone production in underdeveloped girls. As an aphrodisiac, it can be used for low libido to be taken at bedtime. Mixed in licorice and milk, saffron also is an effective topical application to promote hair growth. It is also an effective treatment for cold and fever that gives quick relief.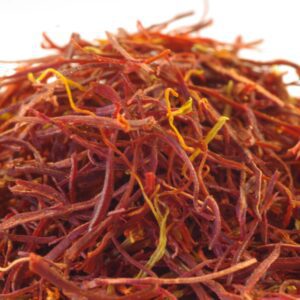 There are other ways in which this spice is used including it as food additives. It is also a culinary treasure that is used in combination with other condiments, to marinate fish and add color and a rich aroma to cakes and other foods and drinks.
The labor that goes into producing what is saffron and the many ways in which it is useful, makes it an incredibly special spice.
Come see our saffron here.