DIY Seasoning blends
One of the most popular trends being followed today is the trend toward healthier eating. Most people are trying to avoid unhealthy foods and seasonings that have additives and other harmful ingredients. A better way to accomplish the use of healthy seasonings is by making the blends yourself. You can add a combination of your favorite spice blends together for a do it yourself seasoning that is nutritionally better for the body. Some easy do it yourself seasonings include what you prefer, and like in your food.
Make a list
To start with your do it yourself seasoning blends, shop for your favorite spices. Get enough to make at least five different blends. You can either grow fresh herbs and spices in your garden or purchase them fresh from your favorite market. You can allow them to dry, or use them fresh. They will eventually dry on their own. Decide what spices will blend well together, and give you the flavor that you want.
Set up mixing materials
Get out the bowls, measuring spoons, and the containers to be used. Mason jars in various sizes are ideal for this project. This is something that the kids can help with. It will give them an opportunity to use their math skills. Once the spices have been blended, put them into containers and label. The herbs will sometimes clump together once they sit for a while, but just give them a stir and they are ready to use again.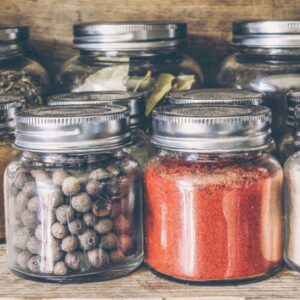 Use the seasoning blends on favorite foods
A cajun blend will go great on chicken, pork, salmon, and burgers. Make up a chili blend to enhance soups, ground beef, and sloppy Joe's. For grilling steaks, chicken, fish, and pork, a jerk blend is a perfect mixture. A tasty Mediterranean blend gives a zesty flavor to roasted vegetables, chicken, and seafood. These do it yourself seasoning blends puts you in control of your sodium intake and saves money on the expensive store-bought seasonings. Enjoy eating healthier and eliminating many of the harmful preservatives that are used in packaged seasonings by experiencing do it yourself blends.
You can purchase some seasonings here.