Secrets behind Thai Green Curry
Thai green curry is a popular Thai dish. Its popularity may be due to both its fresh green look and its sweet vs spicy sour taste. Its aroma and slightly spicy taste also make it an appealing oriental culinary delight.
But what is the secret behind its appeal that makes this Thai curry a delight to the palate? The secrets are in the ingredients and the cooking. It is a delicate process of combining and balancing opposite flavors like sweet vs spicy.
Three steps to a good Thai green curry.
First, get the thick curry paste.
You can make this paste or buy it ready-made from an oriental shop. Making your curry paste might not be the best approach. The many ingredients might be hard to get and expensive. Prep time and getting the right consistency and taste might be difficult.
Buying a jar of ready-made paste is the better option. It has all the ingredients in the right proportions and consistency.
Next, get the cooking ingredients for the curry.
Other ingredients:
 packet of kaffir

 lime leaves.

 galangal,

 lemongrass shoots,

 jar of tamarind paste,

 coriander,

 shallots,

 palm or white sugar,

 green chilies,

 coconut milk,

 desiccated coconut

 lime,

 Thai fish sauce,

 basil leaves,

 diced chicken breast or vegetables.
With ingredients at hand use the thick ready-made paste to make the perfect sauce. It is important to focus on balancing the sweet vs spicy ingredients you add.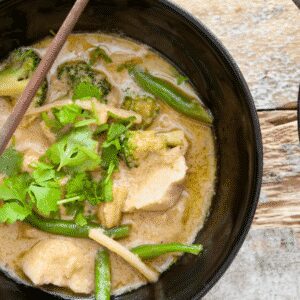 Third, make your curry:
1. In a wok, start by frying these ingredients together: onion, garlic, chopped lemongrass shoots, galangal, lime leaves, green chilies, and basil leaves. Fry for three minutes.
2. Add two tablespoons of curry paste, fish sauce, and tamarind paste. Fry for three to four minutes.
3. Add diced chicken breast or vegetables and stir for two minutes.
4. Add coconut milk and water if too thick, then stir until it begins to boil then leave to simmer.
5. Blend coriander leaves and desiccated coconut into a paste.
6. Add sugar and lime juice, basil leaves. Stir and add coriander paste and stir. After 30 seconds the curry will turn green.
You have unlocked the Thai green curry secret. Turn off flame and serve with rice.
To make this easier, just use our Thai Green Curry spice
For more ideas using our fresh spices, check out our blog.