Spice Up Your Fruit Salad

 
Who doesn't love a fresh and tangy fruit salad in the summer? This classic dish is popular with all ages, and it can be done many ways. Fruit salad can be too sweet for some people, and spicing it up will give it that savory flavor that takes it to the next level. If you haven't tried adding some Spice Station spices to your fruit salad, you are missing out!
Video Overview
Fruits to Use
Pineapple

Watermelon

Cantaloupe

Mango

Strawberries

Blueberries

Feel free to mix it up and substitute in other fruits, or even neutral vegetables such as cucumber. Fruits that are in season will have the best flavor, so it will depend on the season. Chop up your larger fruits into bite size pieces. You can even use a melon ball tool for the watermelon and cantaloupe if you are feeling fancy! The great thing about fruit salad is that you don't have to measure anything to make it. Just grab the fruits that you love, and fill up your bowl! Load up your chopped fruit into a big, decorative bowl and then get started on your seasoning.
Seasoning Mix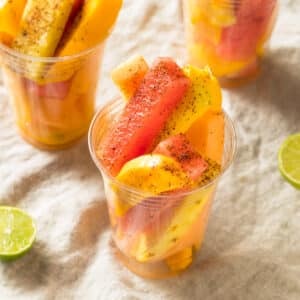 Squeeze the lime juice over the fruit in the bowl and mix well to make sure all fruit is coated. Then sprinkle on the chile powder and mix again to ensure all fruit is evenly coated. The amount of lime juice and chile powder you will need will depend on how much fruit you are using and how big you want your fruit salad to be. You can adjust the levels of both ingredients based on how tangy and or/spicy you want your fruit salad!
Bring some spice to the sweetness with this refreshing combination that is perfect for those hot summer days. This spiced up fruit salad will be a hit at summer picnics and potlucks, and brings a Mexican twist that will appeal to kids and adults alike who appreciate some spice!