Making Margarita Salt Rims

 
The Classic Margarita
If you are a fan of tequila, there is no more quintessential beverage than the Margarita. Making a Margarita is easy and uses simple ingredients common in many households. Tequila, Triple Sec, and lime juice, with a salty flare at the rim. As such, the Margarita is also the perfect cocktail to get creative. If tequila is liquid bliss, a Margarita is liquid bliss with style. Rather than continuing to look for your lost shaker of salt, why not try something with a bit more spice or sweetness.
Video Overview
For those who also enjoy a spicy margarita, try one of the many spice station blends, such as Chili Lime Salt, as your margarita rim. The green chili, combined with flaky salt, provide just the right amount spice to complement your afternoon beverage. Enjoy on its own, or with a bowl of tortilla chips to leave you both satisfied and craving for that next irresistible taste. 
If, however, you have more of a sweet tooth, try a Margarita rimmed with Lemon Twist Salt. Just the right combination of exotic and classic, each sip will reward you with a melody of flavors swirling with the citrusy base. The perfect combination for fall or winter, and excellent either before or after a meal, Lemon Twist Salt is sure to be a winner, you can even mix it with a little bit of sugar. 
How to Make a Salted Rim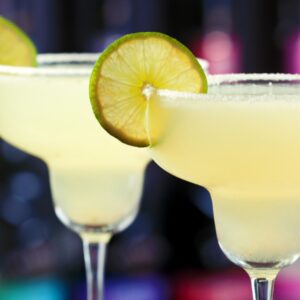 Whether you try a spicy or sweet blend, try something new and interesting. It may just become your next favorite drink. Once the perfect blend is selected, applying your rim is easy.
Step 1: Take an empty Margarita glass and slightly wet the rim either with your fingers or lime wedge.

Step 2: Spread the spice station blend in a thin layer on a small plate and touch the damp rim of the glass to the blend.

Step 3: Fill the glass with a classic Margarita base and you have your very own drink creation. You now have a Margarita with style. A Margarita with your style.

Make It Your Own
The next time you grab for that bottle of tequila, get creative. If Chili Lime Salt or Lavender Vanilla Sugar does not define your style, try one of the other beverage spice station blends. Perhaps try Vulcan's Fire Salt, or even Hibiscus Blossoms. Experiment with different flavors or try mixing more than one blend to create your perfect Margarita. While the Margarita may be an old standard, making it your own never gets old.