Chile Powder
Our version of a traditional chili powder but better! Made with freshly ground cumin, Mexican oregano and New Mexico, pulla and/or guajillo chiles.
When thinking about blending spices, chile powder was one of our top blends to make.  We wanted it to be original, fresh and zesty.  Chile powder is so versatile with what it can be put in or used with.  It is traditionally used in Latin American dishes, like enchiladas, tacos, or empanadas.  It has also been welcomed in seasoning almost any kinds of meats; red meat, ground turkey, chicken or fish or shrimp for added flavor.  Clearly, adding it to a crock pot of home made chili is one of the best ways to use this blend.  Making soup and want an added kick?  Chile powder is the way to go.  Something as easy as making beans for lunch or dinner, you can add chile powder to that as well.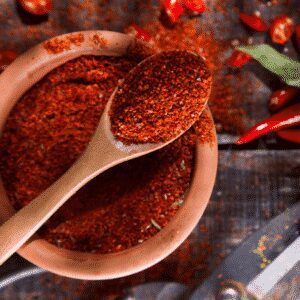 When thinking about chile powder, you might not know about added benefits that it can provide to your body.  For example, it can be used as an anti inflammatory oil rub for achy joints or sore muscles, just make sure to wash your hands afterwords.  It can also be used to help alleviate sore throat or a cough.  You dissolve a teaspoon of chile powder into warm water and use it to gargle with for up to 10 minutes.  It has even been used to help with upset stomaches or gas, again mix our blend into warm water and drink it.
Cooking with spices entices your palate and keeps you interested in the food you are making.  We recommend using our spices to come up with a new dish.  Our blends are here to help you with how much seasoning should go in what, but you can always make your own blends using any of our spices.  Happy cooking!
Check out our spices here.