Grilling veggies is a fantastic way to enjoy healthy food. To make your meal absolutely incredible, you should find the combination of the right cooking methods as well as the perfect combinations of spices. Check out some of these ideas for your next meal:
Grilled Zucchini and Corn
One delicious and simple combination from the Spice Blog consists of a few simple steps. The key is to prep the vegetables and allows time for marinating, getting the grill going, and getting the perfect grill marks. With only a handful of steps, some patience, and some knowledge of great spices, you will be able to create low-fat, nutritious dishes with the wonderful, warm quality of cooking with a grill right away.
Spices for Veggie Recipes
Maybe you like simple salt and pepper. Maybe you love spice and heat. Possibly you're more into fresh herbs or citrus. However, you grill veggies, knowing a few spices for veggie recipes will optimize how you can combine your flavors.
Here is one simple mix to add some flavor and depth to your cooking:
2T Hungarian paprika
1t fresh black pepper
1t dried thyme
1t dried rosemary
2t garlic powder
1/2t ground chipotle pepper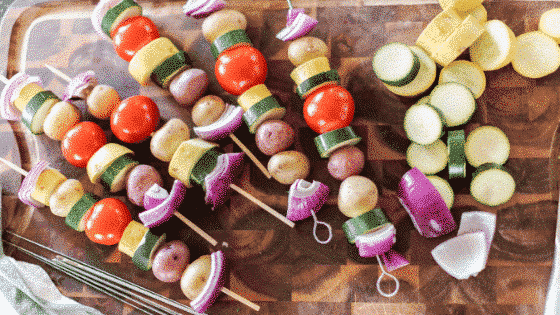 Simply mix the ingredients together and season your veggies after they've been prepared but an hour before you plan to grill veggies so they have a chance to marinate.
Other great spices for prepping veggies include ones with an ethnic twist such as this Thai version:
1.5c packed cilantro
8 peeled cloves of garlic
2T fish or soy sauce
1T water
1t fresh black pepper
1t chili garlic sauce
1/3c vegetable oil
2lbs vegetables, cut into pieces
Process all the ingredients except the oil and vegetables in a processor and blend. Add the oil as it mixes. Toss the vegetables in the paste then let them sit an hour while preparing the grill. Serve with rice or noodles and enjoy!