With the fall holidays right around the corner, everyone starts reaching for their all-time favorite pumpkin spice recipes. What do you do if you have someone that does not really like pumpkin spice? What do you do? Here is a pumpkin rigatoni recipe that will knock your socks off. It is a creamy, silky, pumpkin- sauce- bathed rigatoni that is sprinkled with some rosemary walnuts that might just replace your pumpkin spice recipes.
This pumpkin pasta is amazing. It has a warm and toasty meal, fall flavors, garlic and rosemary and butter, and big floppy rigatoni noodles. This pumpkin rigatoni recipe can be used for supper tonight, lunch tomorrow, and even be stretched much farther than that. This recipe keeps you full, tastes amazingly reheated, and taste so good that you wouldn't mind doing a little celebration dance.
This recipe is done in two parts. The first thing you have to do is make your rosemary walnut crispies and before you even ask yes you might want to make a double batch to have some for salads and things like that. First, you want to set your oven to preheat at 375 degrees F and send the walnuts through a food processor till they have a chopped texture. After that place them on a sheet pan and roast them for 8- 10 minutes. Then toss them in some brown sugar, salt, black pepper, butter, and most importantly fresh rosemary. This gives the walnuts a burst of flavor that makes it really hard to not eat them straight off the pan.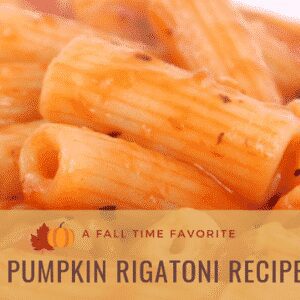 Okay, now that you have your walnuts done, time to move on to your pasta. Cook the pasta according to the box then drain and return to the pot. For the sauce, you should heat the butter in a skillet over low heat. Then add some garlic and sauté until fragrant (Tip: be careful not to brown the garlic or it will taste bitter.) After that add pumpkin and broth and let it simmer until it is smooth. Then add some cream and salt and allow it to simmer till the sauce covers the back of a spoon. Finally, add a little lemon juice if you want, mix with your pasta, top with your walnuts and enjoy. See it really is as simple as it sounds. Now you have a holiday dish that everyone will love and that is both healthy and filling.
Jump to top