Finding the best baked chicken thighs recipe.
Most people can say that at one point in their life they have had what they would classify as the best baked chicken thighs recipe ever. Any chicken recipe is amazing with all the chicken spices and chicken seasoning you almost can't go wrong. When using a baked chicken thighs recipe, most people expect the meat to be dry and the skin to be falling apart and just downright nasty, but in all honesty when it is done right it can easily become your go-to dish for lunch or supper.
When people think about cooking chicken and all the chicken spices and chicken seasoning, most times they think you can only find it at fancy restaurants. This is simply because most of your home-cooks tend to feel very insecure about cooking raw meat, more specifically poultry. They tend to worry about things like spreading germs by touching the raw meat, ending up with a dish that has soggy skin, over or under seasoning the meat, and even serving undercooked meat and having their guests or family members get sick. This makes home-cooks cook the meat until it is tough like shoe leather which just adds to the other worries that they already have. Let's now get to the baked chicken thighs recipe!
Restaurant-Style Baked Chicken Thighs Recipe
Take a deep breath. We are going to go over a simple restaurant-style chicken thighs recipe that will make all of your cooking fears disappear. This will make you feel like Ina Garten, or Martha Stewart whomever you prefer. This recipe is ridiculously delicious and will become your new favorite thing to make for parties and even everyday suppers.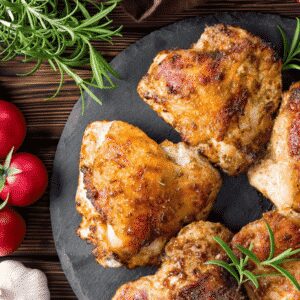 When it comes to cooking any kind of chicken it does not take much to overcook it. With that being said you defiantly do not want to serve undercooked chicken either. With this recipe make sure you preheat your oven to 450 degrees F. After that put a 12- 14 inch cast iron skillet on the stove over medium heat and add olive oil. Next, make sure the skin is dry and sprinkle the meat with garlic salt and black pepper before placing it in the skillet skin side down. Using the tongs flip the thighs and add thyme, rosemary, and lemon slices. At last place the whole thing in the oven for 15- 18 minutes. See! It's Simple.
Find more recipes here.