What is Cumin Used For? 
Cumin is a spice that has been used for many centuries.  Cultures that are known to use cumin as a staple in their foods are Mexican, North African, Indian, and the Mediterranean. The spice is the perfect ingredient when you want to add warmth and earthiness to a variety of dishes. The spice really stands out from other spices because of the flavor it adds, even though it has a peppery aroma, it does not taste like pepper.  Cooking with cumin will definitely make your food more flavorful even if you are not a very experienced cook.  
Some Background Information On The Spice 
The spice currently dates back 4,000 years and was being used by the Egyptians during the Bible times. If you are unfamiliar with the spice you may ask yourself, what does cumin go with? The spice goes excellent with meats, vegetables, stews, and soups. This particular spice breaches all cultural barriers and can be used to warm and spice any food. Here in the United States, this spice is in the top 10 when it comes to being purchased by consumers.  Cumin comes as whole dried seeds or as a ground powder.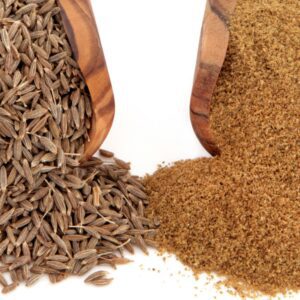 Cumin is not just used for cooking purposes but it is also used for cosmetic purposes, for medical purposes, and some say even as an aphrodisiac. The seeds of the spice are used in some cultures to make a tea that helps to soothe an upset stomach.  It is also recently thought of to help with weight loss.  When used as an aphrodisiac, it is said to strengthen a romantic relationship.  Most of the bigger spice growing companies like to grow this spice in an area where no pesticides are used and the sun, temperature, and soil are just right. The spice is harvested by hand, sun-dried, and screened very carefully to remove stems and twigs. This is how the spice companies ensure that the spice delivers the purest and the most flavor to food all over the world.  It is rare to find such a spice that delivers such awesome flavor and warms up the food so uniquely.  
Check out our cumin here.