Oregano is a perennial herb native to the Mediterranean basin whose name translates to "mountain joy" in Greek. A relative of mint, Origanum Vulgare, or common oregano is often called the "pizza herb" in the United States because it was popularized in the twentieth century American GIs who introduced the seasoning as they returned home from the Italian theater after the Second World War. While tomato sauce and oregano are certainly a common pairing, the herb has many uses, varieties, and pairings that allow home cooks to enjoy a spicy, minty sprinkling of southern Europe on their plates.
What Dishes Can I Use Oregano In?
In addition to the above-mentioned pizza and tomato-based dishes, oregano often pairs well other common Greek ingredients such as feta cheese. Popular in Greece and increasingly stateside, marinated feta is unique spin on the brined cheese that includes oregano, thyme, garlic, and a hint of chili pepper all slowly infusing cheese and extra-virgin olive oil with their herbal freshness. Dried or fresh oregano work equally well for this recipe, as either form help mellow out feta's slight funkiness.f
Chimichurri, an Argentinian condiment that resembles the famed Ligurian basil pesto also uses oregano, in addition to other fresh herbs, garlic and olive oil. Served as an accompaniment grilled steak and other beef dishes, oregano's lightly pungent flavor helps cut through fatty meats and packs an herbal punch to otherwise stodgy meat-heavy meals.
Oregano is also used in Italian dishes that aren't tomato-based as well, such as with tagliatelle egg pasta, parmesan and lemon. As you've probably figured by now, the herb does tend to pair well with other common Mediterranean ingredients, such as garlic, cheeses, lemon, olive oil, thyme and vegetables.
What are the Health Benefits of Oregano?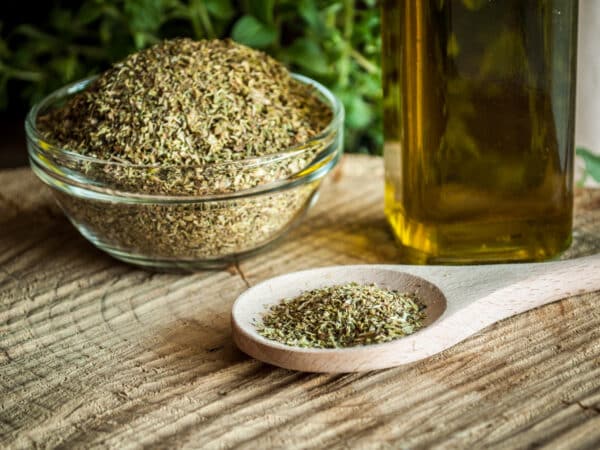 In addition to having a relatively high amount of minerals like potassium, iron, magnesium, and phosphorus, oregano contains aromatic terpene compounds such as carvacrol, thymol, and linalool. Carvacrol, which oregano is particularly rich in, is known to have significant analgesic, antioxidant, antimicrobial, antitumor, anti-inflammatory and antispasmodic properties and has been shown to be effective against food-borne pathogens, such as E.coli and salmonella.
Its antimicrobial and antispasmodic properties may indicate the oregano is useful in maintaining good gut health, in addition to a host of other potential benefits, so don't go too easy on the oregano shaker next time. It's also simply delicious!
What Does Oregano Taste Like?
While there are Mexican, Greek, and Turkish varieties, generally, oregano has a peppery and spicy flavor. The fresh leaves or the dried herb in large amounts are also generally somewhat bitter, although it's generally not used in large enough quantities to be unpleasant. Like its cousin mint, oregano also has a natural, aromatic sweetness that gives it a well-balanced herbal aftertaste: an initial spicy, pungent, peppery and warm kick followed by a naturally sweet and cooling minty finish.
Where Can I Buy Oregano?
Spice Station Silverlake has several varieties of oregano available for purchase and delivery straight to you. Whether you want to dabble in spicier Mexican oregano, or the more traditional Greek or Turkish varieties, Spice Station's fast and easy shipping is free when your order totals $25 or more. Find your Mediterranean zest and add an aromatic dimension to your cooking with some oregano today!