Warm up this Winter with Gluhwein
A tasty and traditional German/Austrian winter treat, Gluhwein or glogg is a combination of red wine, spices and citrus — served hot! Traditionally offered to German shoppers at holiday markets, spiced or mulled wine can also be found at snow resorts being served to skiers coming in from the cold. This seasonal favorite is prepared in several different ways depending on the region, but each variation achieves the same goal of warming up the drinker from head to toe. Gluhwein translates into "glow wine" for the rosy glow it will bring to your cheeks (and belly) while you sip, and can be made right at home with our recipe guide. 
Choosing Your Wine
When deciding which wine to use, it can be helpful to determine the total volume of Gluhwein that you'll be preparing. For serving just one or two people, a single 750 ml bottle of any dry, red wine such as Cabernet Sauvignon or Pinot Noir works great. If you're hosting a holiday party for several people and prefer to buy in bulk, then a 3L box of Merlot will also suffice. To keep things on the sweeter side, port wine can be used in place of dry wine and requires less added sugar during the mulling process. Although Gluhwein is often warmed in a large pot on the stove top, it can also be prepared (and kept warm) in a slow cooker, so it might help to determine which method you'd prefer before selecting the wine type and quantity. 
Spice Things Up
When the time comes to spice up your wine, there really is no "right way" to go about it. Personal preference and a little experimentation goes a long way here, however these are the most commonly used spices found in mulled wines:
Additional Options
The third component that really brings the Gluhwein together is some type of fruit or citrus, although orange slices are perhaps more commonly used. Apple, lemon or pear slices make wonderful additions in place of orange, and even dried fruits have found their way into traditional Nordic mulled wines; raisins, currants and figs can all be found floating in hot mugs and then eaten later as a sweet snack. 
Brown sugar or a homemade simple syrup is typically added to mulled wines for sweetness, however alternatives such as honey and agave syrup will work just as well. Another option for particularly cold days is to add a shot of hard liquor, like rum or amaretto, into the mixture for extra warmth. 
Gluhwein Recipe
Now that you have an idea of the sweets and spices you'd like to use for your own mulled wine, work them into the recipe below to have a warm and toasty winter all season long.  
(From Wine Enthusiast)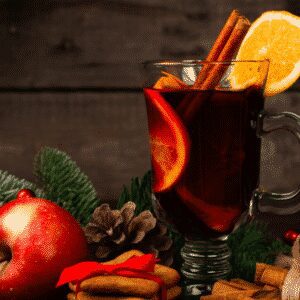 Ingredients
   

2 cups water

   

1 cup orange juice

   

1½ cups sugar

   

2 cinnamon sticks

   

8 whole allspice berries

   

1 star anise pod

   

2 oranges, halved

   

10 cloves, whole

   

8 juniper berries

   

1 lemon, halved

   

1½ bottles Cabernet Sauvignon

   

Orange twists, for garnish

   

Cinnamon stick, for garnish
Combine water, orange juice, sugar, cinnamon sticks, allspice and star anise in a pot over high heat. Bring the mixture to a light boil, and then reduce to a mild simmer.
Juice the orange halves into the simmering liquid. Stud the remaining rinds with the cloves and gently place into the pot. Add juniper berries. Next, juice the lemon into the simmering liquid, and place the halves into the pot.
Reduce the mixture to half of its original volume, add the Cabernet Sauvignon and heat until just below simmering. Ladle into glass mugs. Garnish with orange twist and cinnamon stick. Serves 8.