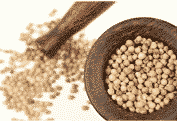 Peppercorn, Muntok White
White peppercorns start out the same as the black, but are allowed to ripen more fully on the vine. The outer shell is then removed by soaking the berries in water until the shell falls off, or by holding them under flowing spring water, yielding a whiter, cleaner pepper. White pepper is less pungent. It is often used in white sauces rather than black pepper, which would give the sauce a speckled appearance. It is best ground directly on to food. With hot food it is best to add pepper well towards the end of the cooking process, to preserve its aroma.
MEDICINAL: Pepper calms nausea and raises body temperature, making it valuable for treating fevers and chills.